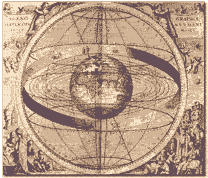 Map of Astronomy
Plate from the book "Harmonia macrocosmica sen atlas universalis et novus", of Adrea Cellari Palatini, Amsterdam, 1708.
Besides the printed books, there are also 116 manuscripts. Most of them are from the 18th century, while there are sheets from codices of the 10th, 11th and 12th centuries. Most of them are copies of ancient Greek and Byzantine texts as well as Church Fathers' texts.
Among them are:
ิhe manuscript of the work Parerga of Philotheos by N. Mavrokordatos, printed by Konstantas in Vienna, in 1800.
A three-volume manuscript by Philippides, which includes his translation, with additions and comments, of Brisson's Principles of Physics.
The manuscripts were classified and catalogued by A. Papadopoulos - Kerameus who published the Catalogue of the Greek Codices of the Library of Milies in 1901.
PSYCHIS AKOS
(Cure of the Soul). Inscription originally placed above the entrance of the School of Milies by Konstantas
There are also some 1,000 loose documents, which were classified into 23 files by E. Skouvaras in 1960. These are mainly documents belonging to Konstantas, from the village archives and the School, and letters, which are all particularly important for the local history.
In the Library one can also see:
The flag of the local revolution of 1821 against the Turkish rule.
Gazis' stole.
The desk-bed, chair and knife of Konstantas.
Some scientific instruments of the late 18th century.
Slates belonging to the students of the Milies School of the early 19th century.
Geographical and astronomical metal globes.
Remnants of the archaeological collection of the School.
A portrait of Gazis.
An etching of Homer.
The sign of the Library of the Milies School "Psychis Akos" - Cure of the Soul).
---
Text :
Rania Tzortzi
Translated by
Hara Mihalakopoulou
---